By: Christina Hughey
A healing garden is a garden designed for a specific population, place, and intended for positive health outcome.
With plenty of research to prove, access to nature is a beneficial part in the healing process.   Healing gardens are making a rapid comeback. Most new hospitals are incorporating healing gardens, these hospitals competing to provide the best quality care. Healing gardens are even popping up in unconventional places like prison yards, veteran homes, retirement homes, and even in programs for troubled youth.  Nature and its correspondence to positive health outcomes have been understood for centuries. Even dating back to ancient Greece where the Greek used natural spring water for cleansing rituals. Healing gardens were also popular in the middle ages. Throughout Western Europe, monastic hospitals created courtyards so patients could get sun and fresh air. In modern health care, we know there are many varieties of healing gardens aimed towards just about every patient.
Modern types of healing gardens/ therapeutic landscapes include:
Children's Hospital Gardens

Gardens for Cancer Patients

Gardens for the Elderly

Gardens for People with Alzheimer's

Hospice Gardens

Gardens for Mental and Behavioral Health

Gardens for Veterans  
Why healing gardens are so important:
Studies show healing gardens speed up recovery, and patients even asked for less medications when exposed to healing gardens.

Gardens can reduce levels of pain and stress therefore boosting the immune system.

Gardens give patients a sense of control, access to nature, and positive distractions.

Healing gardens are even appreciated by families, siblings, and workers because it gives them a place to relax and take their mind off things.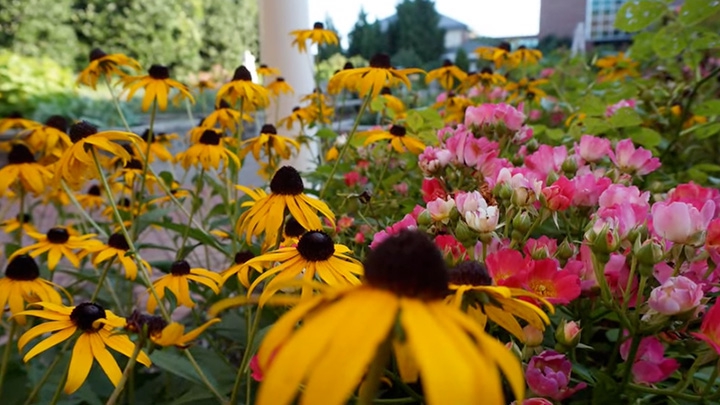 What goes into a healing garden?
Many details go into a healing garden, here are a few significant things to understand. While in some cases it's okay to use the designer's creativity, however, most cases it's important to use EBD (evidence based design) for the best possible outcome for the patient's health in a healing garden. This means using a design that's already been proven to do no harm and to have positive healing results. For example: Based on research of Barnes and Cooper Marcus as well as others we know the garden needs to be very green for positive results so the typical ratio used when designing a garden is 7:3 seven vegetation to three hardscapes. This is evidence based design.  
Other key elements in designing the healing garden:
Safety and comfort:  walkways should be wide enough to accommodate wheelchairs and walkers. (Five feet wide walkways for one wheelchair to have enough room and seven feet wide walkways for two wheelchairs. Paving seams narrower than one eighth of an inch.)

Accessibility: keep the garden close enough so the patient and family can use it. Doors should not be heavy and should be easy to open.  Healing gardens need to be designed so that if a patient cannot access the outdoors they can still view it from a window.
Some more helpful design tips:
Engage all senses (although avoid strong fragrant flowers for patients undergoing chemo)

Water can be very relaxing (at the same time keep in mind drips and algae problems in ponds because these are not relaxing)

Make the healing garden easy to maintain (poor maintenance won't be comforting)
Here at DG2design our experts understand fully that nature plays a key role in healing. We know that Healing gardens can benefit just about everybody, call us today to see what kind of healing garden we can create for you.